Few places are more alive than airports. Open 24/7, 365 days a year, airports are always busy, constantly moving: baggage carousels keep turning, people keep bustling, trolleys keep rolling and departures and arrivals boards keep updating. At airports, the lights never go out, shops rarely close and near-constant PA announcements fill the air. There's something glamorous about airports, too: everything polished, the scent of expensive perfume in the air, the promise of overseas travel and the excitement of holidays. So when airports become abandoned, their stark emptiness is eerie; when they become derelict, their crumbling glamour is almost ghostly. Here, take a tour of ten of the world's most haunting abandoned airports.
Nicosia, Cyprus
Nicosia is the capital of Cyprus, one of the most popular holiday islands in Europe. You'd expect its airport to be be pretty busy, but it isn't, and hasn't been since 1974, when Turkish troops invaded the island. Now, the southern part of the island is occupied by the Greek community and the northern part by the Turkish. Separate airports have been built to serve both sides of the island, with two in the south. Nicosia Airport, meanwhile, is part of the United Nations buffer zone between the two communities. Looking at the now derelict passenger terminal, it's easy to imagine seventies holidaymakers gliding past the wood veneer and glitzy advertising. Instead, however, there's little more to be found than pigeon feathers and excrement.
Hellinikon, Greece
Hellinikon (also known as Ellinikon) was the main airport for Athens, the capital of Greece, for sixty years. In 2001, a new airport was built in anticipation of the 2004 Athens Olympics. Hellinikon wasn't forgotten, though, and played an important role in the games: parts of the runway were turned into venues for sports including hockey, baseball and kayaking, whilst aircraft hangars became arenas for fencing and basketball. Once the Olympics were over, there were plans for the airport to be turned into a park, but the financial crisis hit Greece hard and put them to a halt. Now, the airport is frozen in time, with a rusty exterior, a departure board heralding a long taken-off Paris flight and, bizarrely, an escalator packed with lever arch files. Recently, there have been reports of plans to turn the land into a luxury resort, but as it stands, Hellinikon serves as a refugee camp.
Yasser Arafat International Airport, Gaza
In 1998, after a peace deal brokered by the US Government, Gaza's own airport opened. Located in the south, close to the Egyptian border, it was an important moment for Palestinians, many of whom had never set eyes on an aeroplane before they packed the edges of the runway to witness the first ever Palestinian Airways flight take off. Designed by Moroccan architects with mosaics and a golden dome, the small but beautiful airport was a symbol of statehood for Palestine. It was even visited by President Bill Clinton, who officially declared it open. It didn't take long, though, for the airport to become embroiled in the conflict with Israel. In 2001, the airport buildings were bombed, the runways torn up by bulldozers. Today, it stands empty, the gleaming gold dome decaying, whilst sheep graze on the sparse vegetation.
Jaisalmer, India
This airport in Rajasthan, India, was built in 2013 to serve Jaisalmer, also known as the Golden City. The World Heritage site is famed for its breathtaking sandstone architecture, and is popular with tourists, many of whom trek from the nearest airport in Jodhpur, 285km away. The idea behind the construction of the airport was to offer visitors an easier journey to and from Jaisalmer. Sadly, though, no commercial airlines were interested in the route, leaving the airport standing empty. In its totally deserted terminal, baggage carousels are at a standstill and brand new seats are caked in dust, whilst dogs and animal bones gather at its entrance. Rumours of imminent flights in and out of the airport have been abound since its 2013 completion, but recent reports suggest that 2017 really will be Jaisalmer Airport's opening year.
Cuidad Real / Don Quijote Airport, Spain
This airport was once also known as 'South Madrid Airport', which gives the impression that it is close to the Spanish Capital. In actual fact, it is 200km away. The thinking behind the terminal, which is located in a sparsely populated area, was that it could be linked to the nearby high-speed Seville-Madrid railway line, enabling passengers to transfer to the capital in just 50 minutes. The airport, completed in 2009, was the first private international Spanish airport, and cost over 1 billion euros to construct. International flights started in 2010, but just two years later, Don Quijote closed down due to financial difficulties. Now, the walkway that would have led to the railway stops spookily and aptly mid-air, and thieves have ripped copper cladding from the exterior of the visitors' centre.
Floyd Bennett Field, New York
It's hard to believe it now, but Floyd Bennett Field was New York's first ever municipal airport. Built on marshy Barren Island, it officially opened in 1931. Favoured for its open location within easy reach of Manhattan, Floyd Bennett Field became home to some record-breaking feats in the early days of aviation, including spectacular races and achievements by the likes of Amelia Earhart. Now, it's a mecca for urban explorers, holidaymakers who wish to pitch up on its rudimentary campsites and wildlife, which is protected by the airfield's National Park status.
Castellon Costa Azahar Airport, Spain
Although this airport was officially declared open in 2011, it was 2015 before any flights operated out of it. For four years, its carousels stayed still and its glossy terminals gathered dust. The airport was 'opened' just in time for the local elections, and it was the idea of Carlos Fabra, a local politician. In fact, many say that the huge abstract sculpture at the entrance to the airport represents Fabra himself. During the period of time between its completion and the first flights, Castellon Airport was viewed as an emblem of the Spanish financial crisis. Today, Ryanair operates out of the airport, near Valencia, offering flights for holidaymakers wishing to visit the Costs Azahar. Carlos Fabra was jailed for tax fraud in 2014.
W.H. Bramble Airport, Montserrat
Between 1995 and 1997, a powerful volcanic eruption devastated the Caribbean island of Montserrat. Lava and ash completely engulfed the island's capital, Plymouth, and totally destroyed its airport, also known as Blackburne Airport. Once the welcoming point for holidaymakers visiting a paradise island, it became a metal shell surrounded by rubble and volcanic rock. Afterwards, Montserrat was only accessible by helicopter or boat, and unemployment rates rocketed as the island's main industry, tourism, came to a complete standstill. In 2005, a new airport was built, improving access for residents and visitors, and more and more holidaymakers are heading to the island to discover its unique landscape and black sandy beaches.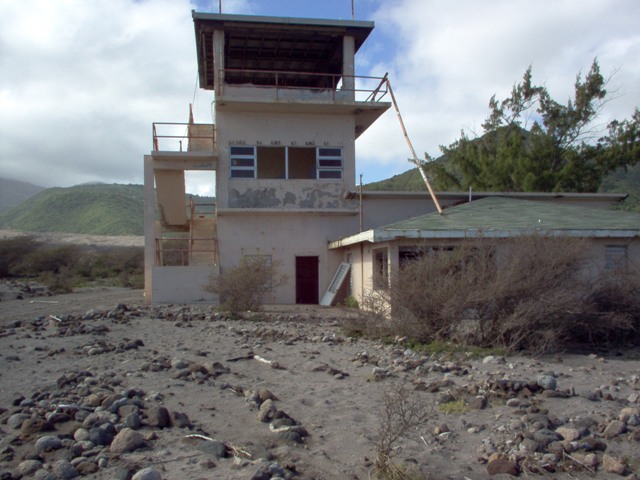 Kai Tak Airport, Hong Kong
In its heyday, Kai Tak Airport was one of the most famous airports in the world. This airport wasn't famous for its facilities, though, or its picturesque location, it was famous for being dangerous. Located in a densely-built-up area of the island, the airport posed serious issues to both residents, who were subjected to noise pollution and pilots, who had to skim past high-rise buildings and scarily close to streets as they landed. Eventually, it was deemed too dangerous and impractical and in 1998, closed to make way for a new airport in a safer location. Today, Kai Tak still welcomes tourists, but under its new guise as a cruise ship terminal.
Berlin Tempelhof
Once upon a time, Berlin Temelhof Airport was one of the biggest buildings in the world. This iconic airport began life in the 1920s and ceased operating in 2008. Inside the enormous terminal, there are still echoes off the glamour of its heyday, but outside is perhaps more interesting. To the people of Berlin, Tempelhof has become one of the city's favourite municipal parks. Its runway has played host to fashion shows and raves, vegetables are grown in its gardens and instead of aeroplanes, spectacular kites fill the skies.